Ambassador
Ambassador
FOTCM Member
If you have an aging pet (either a dog or a cat), then this information may be useful for you.
Just like with humans, animal's aging brain goes through various gradual changes. Some of them are due to a natural wear, some of them due to an accumulation of free radicals, beta-amyloid plaques, and other degradation processes.
Unfortunately, in many cases it isn't possible to reverse the process, but perhaps keep it manageable. But first, what is cognitive dysfunction, and what are its signs in dogs and cats?
Cognitive dysfunction syndrome (dementia, senility) is a condition related to the aging of a pet's brain, which ultimately leads to changes in awareness, deficits in learning and memory, and decreased responsiveness to stimuli. Although the initial symptoms of the disorder are mild, they gradually worsen over time, also known as "cognitive decline."
In fact, first clinical signs of cognitive dysfunction syndrome can be found in dogs above age of 7 years, and in cats above the age of 11-12 years.
And it is important to know that without any treatment the situation is only going to get worse withing the next 6-18 months from the appearance of the first symptoms.
Symptoms and Types
Some symptoms are different for cats and dogs, and some are the same.
Dogs
Disorientation/confusion ("starring into nothing")
Anxiety/restlessness
Extreme irritability
Decreased desire to play
Excessive licking
Seeming disregard for previously learned training or house rules
Slow to learn new tasks
Inability to follow familiar routes
Lack of self-grooming
Fecal and urinary incontinence
Loss of appetite
Changes in sleep cycle (i.e, night waking, sleeping during the day)
Cats
Has your older cat started to urinate or defecate in inappropriate places?
Does your cat demand more attention that she used to?
Have you noticed your cat crying out more frequently, particularly at night?
Is your cat less adventurous than he used to be, preferring to stay close to home?
Is she behaving strangely – staring at walls, forgetting there is food in her dish or perhaps interacting differently with a housemate?
If you answered yes to any of these questions, then your cat or a dog is in fact showing at least one of the signs of feline or canine dementia, or CDS.
Causes
Causes may vary. Genetic factors may predispose an animal to develop the condition. But as we know, diet and environment also play a big role. We may not stop this process, but we can postpone it as much as possible, or perhaps make it milder and manageable, and to allow your pet to age with grace.
There are many physical and behavioural similarities between CDS in pets and Alzheimer's disease in humans. Both diseases are likely caused at least in part by physical changes related to decreased blood flow to the brain and an increase in free radicals. The older the body gets the more free radicals it produces and when combined with decreased blood and oxygen flow, these molecules wreak havoc on the particularly sensitive and fragile cells in the brain. All this damage also leads to the deposition of protein 'plaques' around the nerve cells, making it even harder for signals to make it through. The end result is a collection of tired, damaged and dirty cells trying unsuccessfully to maintain normal brain function.
The longer this process goes on, the harder the pet finds it to do the simple things that used to come so naturally. For example cats may forget where the litter tray or cat flap is, resulting in poor toilet habits. Changes in sleeping habits and activity levels can lead to increased stress, which in turn can result in loud, seemingly pointless crying. Meals are forgotten and relationships with both human and animal housemates may suffer. Nobody wants to see their pet experience this kind of stress, yet in reality, most of the time the symptoms of CDS either go unnoticed or are simply put down to 'getting older' and as a result, nothing is done about it.
Diagnosis
You will need to give a thorough history of your pet's health to your veterinarian, including the onset and nature of the symptoms and possible incidents that might have precipitated the unusual behaviors or complications. He or she will then perform a complete physical examination to evaluate the overall health status and cognitive functions of the pet. Routine blood tests, ultrasounds, and X-rays are also employed to rule out other diseases that may lead to behavioral changes associated with cognitive dysfunction syndrome.
Pets with this cognitive dysfunction syndrome require life-long therapy and support. However, your help can make a world of difference when it comes to improving your pet's cognitive functions. For example, although it will not "cure" your pet, maintaining a healthy and stimulating environment will help in slowing the progression of "cognitive decline." This typically involves imposing a daily routine of exercise, play, and training.
Proper diet also plays a major role in controling the cognitive decline. This diet is also typically supplemented with antioxidants, vitamin E and C, selenium, flavonoids, beta carotene, carotenoids, Omega-3, and carnitine. They are all considered excellent for improving pet's cognitive functions.
Changing pet's environment to support their condition can be also an enormous help.
Some of the things that owners can do at home to help cats with dementia, include:
Feed your pet according to a routine schedule so they know what to expect and when.
For cats increase the number of food bowls, water dishes and litter trays to make them more accessible from wherever the cat may be in the house. Litter trays should be wide with shallow rims to allow easier access and sand-like litter may be kinder to older toes.
Try to keep their environment otherwise unchanged (especially for those pets who may also be blind or deaf) as change creates confusion which increases anxiety and stress. If changes do need to be made, try to introduce them slowly and gradually.
Provide several deeply padded and comfortable resting/hiding places throughout the house and make them easily accessible by building a ramp or steps up to those that would otherwise require a big jump.
Provide stimulating environment. Games where your pet has to work to recover food. Like this: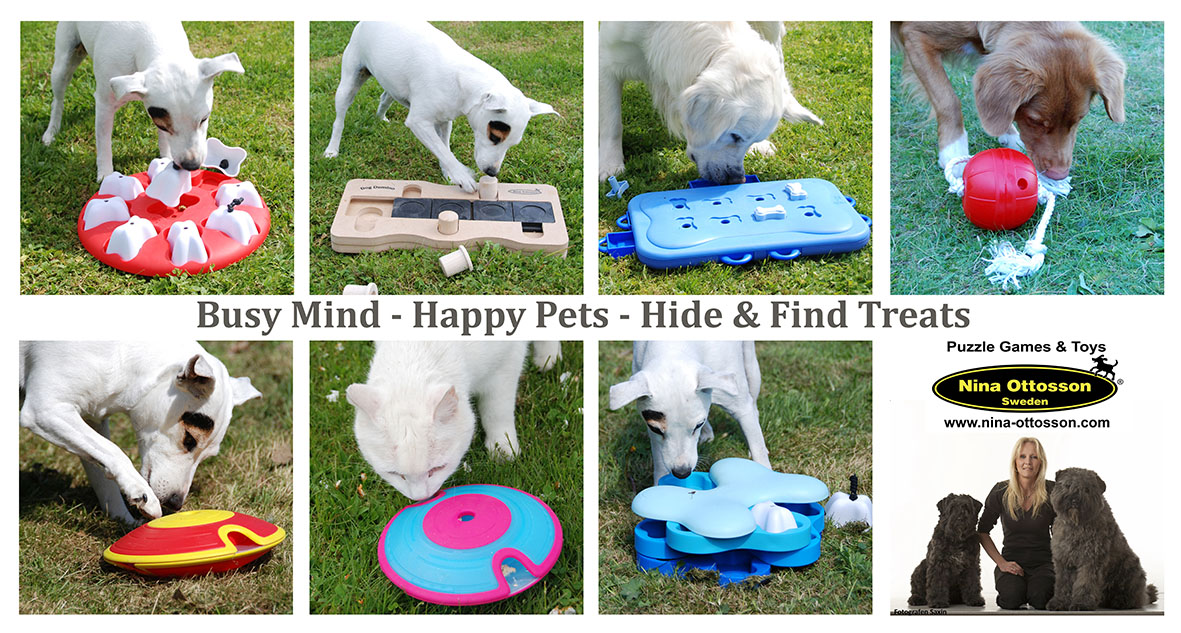 Some pets may not like it and find it stressing, so you have to test it individually. But there is no doubt that in many cases games like this can help your pet;s brain to remain sharp.
Supplements and products
Here are some recommended supplements. Their ingredients appear to be natural and worth trying. Perhaps you could mention these names to your veterinarian and see what they suggest.
As was already mentioned, various antioxidants, vitamin E and C, selenium, flavonoids, beta carotene, carotenoids, Omega-3, and carnitine are good for the brain. Also melatonin, since maintaining proper circadian rhythms translates into a proper sleep. Also curcumin and gabapentin. I don't mention any antidepressants, since there are natural things you can try first. Also c
oconut oil
.
There are also several products:
Activait
Senilife
Calming - Pet naturals
You may do your own research and then try them out, or you may ask for your veterinarian's opinion.
Now, in some cases senior pets may have additional and more worrying symptoms like having
a vestibular syndrome
(being dizzy), or having
seizures
. These conditions usually require additional diagnostics in order to prescribe medication, but seizures are usually being treated with
phenobarbital
. Not sure if you can get it without prescription, but you do need to consult your veterinarian about the dosage since it can have an effect on the liver.